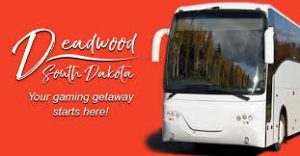 The Lodge at Deadwood. Sign up with activities for your trip to Deadwood. Call (605)-737-5365
This event will be every other Friday. The Bus will pick you up at Hart Mart in the morning and leave Deadwood at 4:00 pm.
This is a FREE event that includes a FREE lunch and they will double your promo money.
space is limited sign up NOW.