Why You Can't Miss Hart Ranch's End of Summer Bash
It's been another outstanding summer here at Hart Ranch Camping Resort Club – in addition to the many fun moments spent in the sunshine, surrounded by the beautiful Black Hills, there have also been may long-lasting memories made throughout our resort. While we're always a little sad to see the summer wind down, this year, we're throwing an End of Summer Bash that will be the perfect wrap-up to a great season. Continue reading to learn more about this FREE event that's open to the public!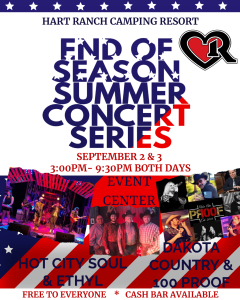 Two Days of Fun
The End of Summer Bash takes place over Labor Day weekend: Saturday, September 2, and Sunday, September 3, 2023. Each day, festivities will take place between 3:00pm – 9:30pm. Entry for both days is FREE! Best of all? You don't have to be a Hart Ranch member to take part in the celebration – the public is also invited to participate in our End of Summer Bash!
FREE for All
Have we mentioned yet that this event is free?! That's right! Where else can you enjoy a free family-friendly Black Hills event that offers entertainment and fun for all ages?
Hart Ranch Summer Concert Series Finale
Get ready to dance the evening away on Saturday and Sunday during live musical performances from Hot City Soul, Ethyl, Dakota Country, and 100 Proof! All summer long, Hart Ranch has hosted our weekly concert series featuring local and regional musicians of many different genres. No matter what kind of music you're into, you're sure to find yourself tapping your feet and swaying to the music in no time!
If you're interested in attending the Hart Ranch End of Summer Bash, visit our Facebook event and hit the "Interested" button! By doing so, you will receive notifications from Facebook as the event approaches.
Keep up with future Hart Ranch Camping Resort Club events on our website, or download the Hart Ranch app from the Apple Store or Google Play!