Hart Ranch Camping Resort hosts a variety of events for all ages, from bunco to bingo! Our Black Hills events also include our popular rodeos, annual RV Show, and other fun happenings, many open to the public! Stay up to date on what we have going on during your stay by visiting our activities calendar below, or stop by the activity's office located outside the Recreation Center! You can also stay in the know by downloading our Hart Ranch Camping Resort Mobile App.
Face Painting and Balloon Animals by Swish 'N Flick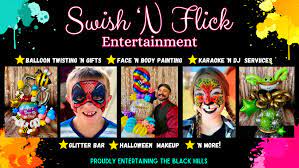 Come meet Swish 'N flick by the Family Rec Center for face painting, tattoos, and balloon animals.  Kids, you won't want to miss this.